Program Overview
Degrees & Certificates
Two-year degree for students who want to start a career immediately after graduation.
Learn more
Credits to complete: 94.5
Estimated program length in quarters: Full Time - 5 | Part Time - Part Time Option Not Available
Certificate programs provide students with a set of skills to find a job or stay current in a profession. Many certificates are designed to build on top of each other and eventually lead to a longer-term certificate or degree. These are called "stackable" certificates.
Learn more
Credits to complete: 75.0
Estimated program length in quarters: Full Time - 4 | Part Time - Part Time Option Not Available
About the Program
Do you dream of becoming a professional baking or pastry chef? The Specialty Desserts & Breads associate degree and certificate at Seattle Central College's Seattle Culinary Academy features comprehensive step-by-step training from nationally recognized chef instructors to prepare you for a rewarding career in restaurants, bakeries and beyond.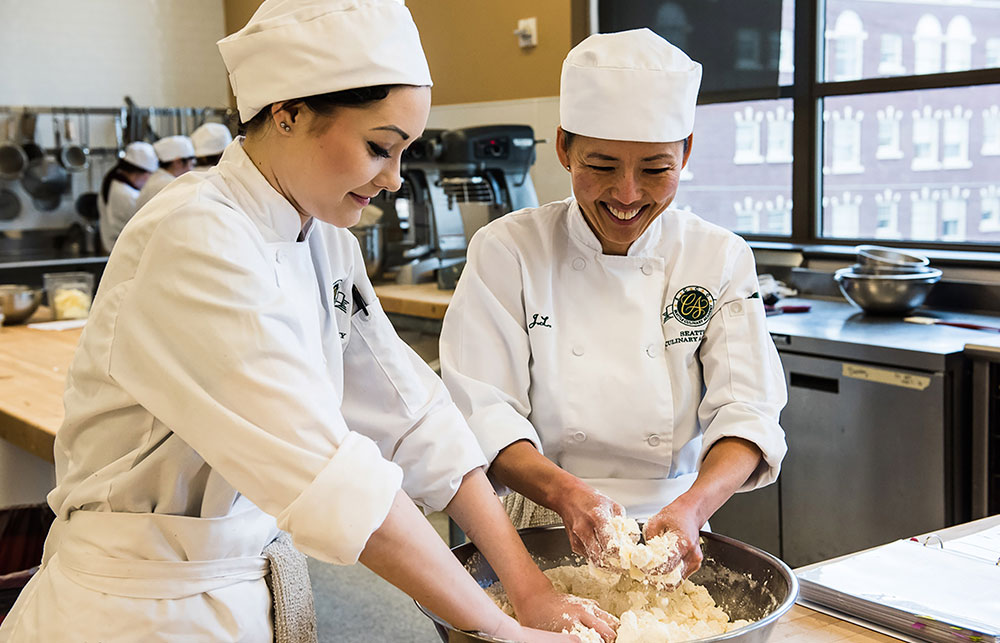 Career Opportunities
If you want to own your own bustling bakery or stylish café, create and style spectacular cakes or prepare desserts for an elegant catered affair, a career in breads and pastries is for you. As a pastry chef, you'll make the chocolates, confections, pastries and plated desserts that delight customers. As an artisanal baker, your skills will be in high demand at the best restaurants and bistros. The Specialty Desserts & Breads program can help prepare you for a career as a:
Baker
Pastry Chef
Personal Chef
Food Consultant
Cheesemonger
Caterer
Restaurateur
Culinary Instructor
Food Stylist
Event/Wedding Planner
And many more!
Intensive Education
Roll up your sleeves and get ready to learn how to create rustic artisan breads and doughs, plated desserts, decorative cakes and mouthwatering pastries. Explore European specialties such as tarts, mousses, truffles and petit fours. Discover the fine art of wedding cakes and cake decorating. Craft fine chocolates with demonstrations on pulled and blown sugar, intricate decoration and showpieces. You'll get classroom instruction on baking theory combined with hands-on training that will teach you the art of preparing breads and desserts for two on-campus restaurants and a pastry case.
Gainful Employment
Learn more about this program's Gainful Employment information (pdf).
---
Program lengths are estimates, not guarantees. For the most current program information, please check with the program contact.