Program Overview
Degrees & Certificates
Two-year degree for students who want to start a career immediately after graduation.
Learn more
Credits to complete: 90.0
Estimated program length in quarters: Full Time - 5 | Part Time - Part Time Option Not Available
About the Program
In the Culinary Arts degree and certificate programs at Seattle Central College's Seattle Culinary Academy, our award-winning chef instructors serve up an intensive, hands-on course of study. You'll gain a strong foundation of culinary skills, with an emphasis on classic and modern cooking techniques, and plenty of practical experience preparing both regional and global cuisine.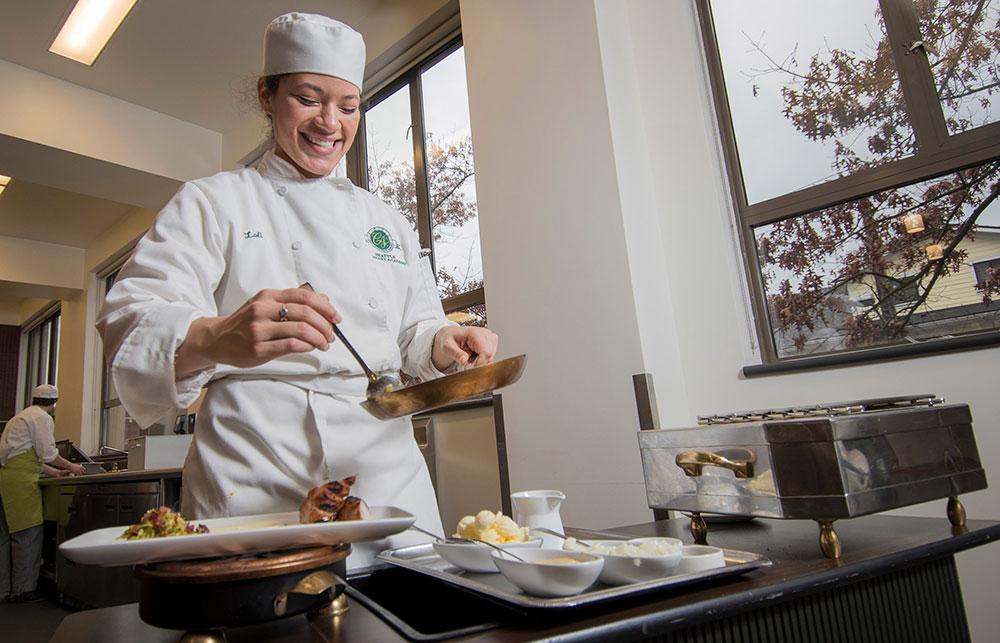 Career Opportunities
Culinary Arts is one of the fastest-growing employment areas in the nation, and the demand for trained and qualified chefs is extremely high. As a Seattle Culinary Academy graduate, you'll be well-prepared for a variety of positions, including:
Restaurant owner
Catering chef
Corporate chef
Hotel chef
Personal chef
Food stylist
Culinary tour organizer
Wedding or event planner
Recipe developer
Food writer / blogger
And much more!
Intensive Education
Take your skills to the next level with hands-on training in our multi-kitchen, state-of-the-art culinary facilities. You'll learn how to make tantalizing appetizers, soups, sauces, salads, entrees, vegetables and starches, breads, pastries and desserts. The Seattle Culinary Academy places special focus on exquisite craftsmanship, Pacific Northwest cooking and international cuisine preparing students to work in some of the finest restaurants in the region.
Gainful Employment
Learn more about this program's Gainful Employment information (pdf).
Everything we know about the fundamentals of owning and operating a restaurant we learned at the Seattle Culinary Academy. The program gave us a strong foundation and skills we use to this day.
---
Program lengths are estimates, not guarantees. For the most current program information, please check with the program contact.