Student Profile - Meet Mahogany Williams
An Interview With Mahogany Williams by Julie Moberly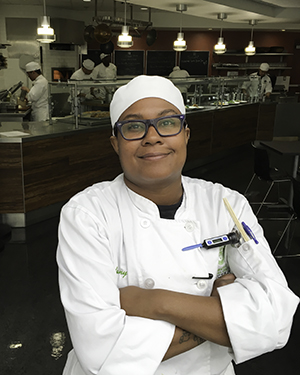 "I'm open to wherever it leads me," Mahogany Williams said of her experience as a first quarter student at Seattle Culinary Academy, "It's a gamble on myself." It's the kind of calculated risk the sunny and outgoing Williams, 35, has been taking all her life, but she says now is the time to slow down and build a solid foundation of skills in the kitchen. Like many students at Seattle Central College, the route she took to Seattle Culinary Academy is rich and roundabout; she has the kind of life experience others bring to school as they transition to a new career. After many years in industrial sales and construction work, Williams views her a degree in culinary arts as the gateway to a life of greater creativity. "I'm really an artist," she said.
A Tacoma native, Williams has deep roots in the kitchen. At age 14, she got her start working at Ivar's fileting fish, then snagged the top spot on the line after filling in for a sick colleague. Within five years she had amassed experience as a restaurant manager, sous chef, and brunch cook firing entrees to order for the Kingfish Café at the height of its popularity. That level of success at such a young age came with a downside, however, and Williams found herself burnt out and looking for a new direction, out of the kitchen. Applying the same determination to a sales position at Grainger, she rose to the number three position in sales and traveled all over the country when she had a fateful encounter with a duck.
"It was at Fleur in Las Vegas," she recalled. "I ordered the duck. I had never had it before, and it was epic." That dinner was transformative, she said, and pointed her back to the kitchen. "I really got into food again, and started cooking more at home, and experimenting more."
Williams chose to leave Grainger and find her way back to her roots, but in a new way. This time, she said, she wanted to fill in her cooking skills with an expertise in business as well. Her dream? To own a farm-to-table food truck serving comfort food for lunch. Knowing she'll wear many hats as the owner-operator, Williams has enjoyed the diversity of roles she gets to take as a culinary student.Whether waiting on customers in the elegance of One World or running pots to the dish room, she has come to count on Seattle Culinary Academy to educate her broadly. The focus on environmental sustainability has been particularly important to her, she said, and given her an idea for incorporating less-than-perfect produce into her future menu. "I want to get that weird heirloom tomato no one will buy and make it into edible food.
With such a thoughtful approach to the future, Williams seems poised for success after graduating from Seattle Culinary Academy in 2018. "I'm going to take all my experience from traveling, from sales, from construction, and watching my mother cook and put that into my business," she said. "I don't want to have any food on the truck at the end of the night."