Here are four restaurants just named semi-finalists for a coveted James Beard Award.
The other thing these four have in common? Their chefs all trained at Seattle Culinary Academy at Seattle Central College. In this week's issue of The Minute, we celebrate these alums, as well as lead faculty at our stellar culinary schools.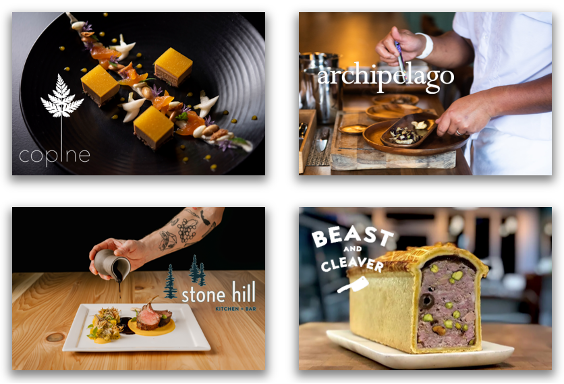 Copine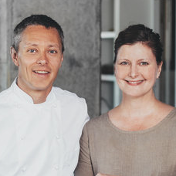 SCA grad Shaun McCrain and his wife Jill Kinney started Old Ballard restaurant Copine in 2016. It's one of twenty spots nationwide nominated in the Outstanding Restaurant category.
Foodie site The Infatuation says, "Copine serves fancy food that just plain tastes great, with a twist or two in every dish to keep things interesting…[like] old-fashioned roasted chicken served with vanilla-scented parsnip puree, salsify chips, and crispy spaetzle on the side." Yum.
Archipelago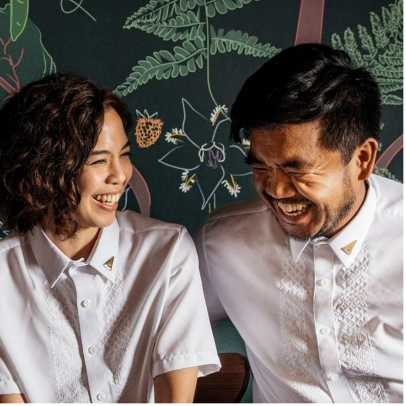 Aaron Verzosa, a 2011 SCA grad, is nominated for Best Chef: Northwest and Pacific. With his wife and co-owner, Amber Manuguid, he started Archipelago in Hillman City in 2018. A little more than a year later they executed a brilliant pandemic pivot, preparing traditional Filipino Balikbayan Boxes for people to take home while in-person dining was suspended. Each box has a mix of seasonal produce, meat, and seafood, plus a few special surprises, too.
Eater described the Balikbayans as "a mix between a meal kit, a CSA box, and an unpacking of culture," with many of the foods accompanied by written-out stories and memories. Happily, you can now again enjoy Archipelago's great food and welcoming vibe in-person, too.
Beast & Cleaver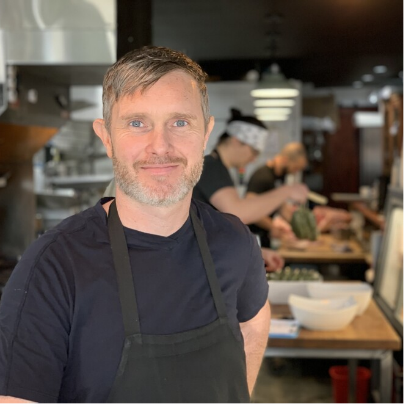 "We should eat less meat, but eat good meat. We don't sell anything that is in the realm of the commodity. It's all coming from small local farms." That's how Kevin Smith, another SCA alum, describes his Loyal Heights butchery and restaurant, Beast & Cleaver, in a recent interview with KNKX.
Opened in 2019, Beast & Cleaver is primarily a butcher shop. But there are also tasting dinners on Friday and Saturday nights, and the cooking is good: Kevin is one of twenty talents nationwide nominated for Best Emerging Chef.
Stone Hill Kitchen + Bar
Over in Bigfork, Montana (yes, Bigfork) Earl James Reynolds is a semi-finalist for Best Chef in the Mountain Region. He left his home state for a time to attend Seattle Culinary Academy, then did a stint with our city's venerable Canlis. Now he's back in MT as Executive Chef at Stone Hill Kitchen + Bar.
Earl's known at Stone Hill for playful and innovative style and for cultivating close relationships with local fishers, growers, brewers, distillers, and foragers. His Carrot Cake Cocktail has been a hit. At right you see him with hand-plucked quinces, soon to be deliciously paired with sheep's milk cheese.
Behind every great Chef...there's a great Chef Instructor

CHEF KÄREN. Stars like those above are less born than made, and part of the making happens through high-quality culinary education. So a particular tip of the toque to Kären Jurgensen, Chef Instructor at Seattle Culinary Academy since 2004, and winner of Seattle Colleges Trustees' top honor for faculty in 2018, the Lifelong Learning Award. Kären oversees One World Dining Room (an unbeatable place for lunch, btw). In 2005 she created SCA's sustainability curriculum (one of the first in the country) and later co-wrote Rethinking the Kitchen: The Sustainable Kitchen Handbook.
In addition to the many honors she's helped onetime students attain, she has a raft of her own, including a national Chefs Collaborative award, recognizing her leadership on sustainable food systems, and the "Edible Education Hero" award from food visionary Alice Waters, of Chez Panisse.