Chef Don Reed - Our Esteemed Bread Baker Begins A New Chapter
Interview with Chef Don Reed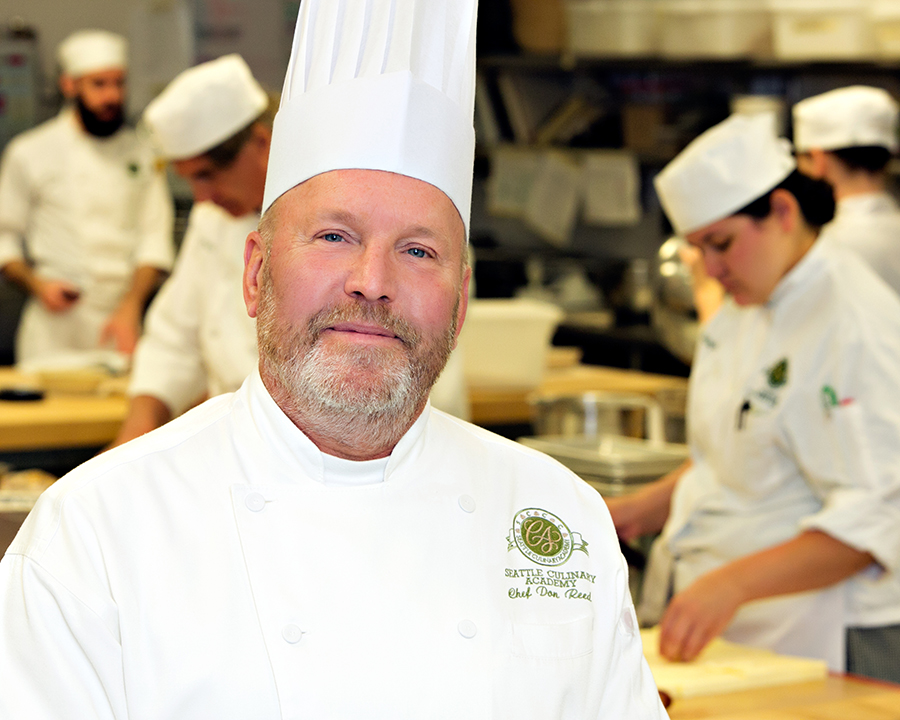 Chef Don Reed retired this past spring and we asked our student reporter Julie Moberly to spend some time and help capture some of the very essence that has made him one of our most beloved faculty members.
By Julie Moberly
Listen to Chef Don talk about retirement, and the only thing you'll want to do is hang on to his coattails and ride along with him. The SCA instructor, who retires from the college this June after more than 20 years with the school, plans to pull away from the curb with no shortage of goals for the future. From building an al fresco kitchen at his house in Palm Springs to exploring a long list of Asian cuisines, there are any number of creative challenges he can't wait to sink his teeth into. Having met his goals for his career as a teacher, he looks forward to creating a new  collection for the third half of life.
Looking back on his time teaching pastry students the finer points of bread baking and Viennoiserie, Chef Don confessed to some mixed feelings about leaving the school. "I really enjoy my job," he said. "I'll miss the spontaneity and the chaos of working with a lot of young people." It's a point he reiterates throughout the interview, and his affection for the students in the program is something you can almost hold in your hand. He is happy to pass along the skills for an industry that he himself has enjoyed so much, and sees only endless opportunities for those who choose to explore them. "You can stay in pastry and baking your whole life," he said. "It offers so many challenges and rewards and the chance to learn new things. That's the great thing about food in general."
That drive for challenge and learning is really all about curiosity, Reed said. A degree in cultural geography from the University of Montana was a great foundation for exploring interests of any kind, he said, and his background in the subject has been useful for understanding the religious, cultural, and economic aspects of food. It's also been a great foundation for his career, which has been spent almost entirely in the culinary industry.  After some time working at a small café making coffee and sandwiches, he credits his mom with suggesting that he pursue his interest in baking by enrolling in the pastry program at South Seattle Community College. After graduating, he spent many years accumulating industry experience with some of the city's culinary rock stars, including Evan Andres of Columbia City Bakery and Leslie Mackie of Macrina. Nearing 40, however, he decided it would be nice to work a more conventional weekday schedule so he could spend more time with his partner, Ron. It was a decision that led him to volunteer at SCA as an instructor, a gateway position that eventually led to his tenure as a full-time instructor with a specialty in both bread and Viennoiserie.  Together with Chef Regis, he co-wrote the curriculum for the baking program as it stands today. It's another example of the kind of creativity available in the industry, he said, with an entrepreneurial slant that suited his curious nature.
Clearly, that sense of curiosity will sustain him through what some might see as a slower pace of life. He and Ron have significant plans for renovating their home in Palm Springs, and he can't wait to try his hand at Japanese woodblock printing. At the end of the day, though, there is nothing he finds more relaxing than cooking dinner at home. He loves the quiet and the creativity that are available to him there, but also loves getting a party together for dinner on a warm desert evening. So vivid are his descriptions of these future get-togethers you can almost taste the wine and lean back in your chair to look up at the sky. "The stars are amazing at night," he notes.