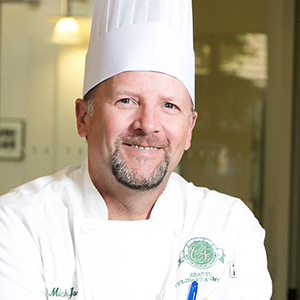 Michael Jordan
Instructor: Culinary Arts
Born in North Platte, Nebraska, Chef Michael Jordan often spent time as a child in the kitchen with his grandmothers. Chef Jordan was raised in Iowa where food, always cooked from "scratch" was an important part of any family gathering; large or small.
As a teen, Jordan entered the food–service industry when he took his first job as a fry cook at McDonalds where he cultivated an indispensable work ethic he still invokes today. After a brief stint at the University of Iowa his culinary career began in earnest when he enrolled at the Culinary Institute of America (CIA) in Hyde Park, NY. Jordan graduated in 1989 and left school with his future wife and business partner, Wendy.
The Jordans left for a 3 month backpacking and eating trip through Europe before returning to America to begin their careers in earnest. A road trip through America ended with them arriving in New Orleans, LA. Chef Jordan took the first of many positions working for Chef Emeril Lagasse. He began as a line cook working his way through every single station in the kitchen. He was the sous chef for Lagasse's second restaurant NOLA in the French Quarter. He returned to the original Emeril's as sous chef and eventually, his tenure with Lagasse brought him to Las Vegas, NV as the Executive Chef of Emeril's New Orleans Fish House in the MGM Grand.
In May 1999, after four years in Las Vegas, Chefs Michael and Wendy Jordan opened Rosemary's Restaurant. Since its opening, Rosemary's Restaurant was consistently voted "Best Gourmet Restaurant" in the Las Vegas Review Journal's Annual Readers Poll, had been featured in Bon Appetit, FOOD & WINE, Santé, Gourmet, Conde Nast, LUXURY Las Vegas, The New York Times, and The Wall Street Journal.
Chefs Michael and Wendy Jordan have been featured on both regional and national television, including appearances on ABC, NBC, and The Discovery Channel's "Great Chefs." They were featured on Food TV Network's "Lonesome Dove Trail Cowboy Cooking" with Chef Tim Love, and "Tasty Travels" with Rachel Ray.
In 2007, Chefs Michael & Wendy Jordan were voted "Restaurateurs of the Year" by The Nevada Restaurant Association and Rosemary's received the #1 "Top Food" rating in the 2007 ZAGAT Survey for Las Vegas restaurants and was featured on Food TV Network's "Sizzlin' Summer Destinations" in June 2006.
Chef Michael Jordan served on the Program Advisory Board of Directors at the Le Cordon Blue College of Culinary Arts and has successfully completed the first level exam of the Court of Master Sommeliers.