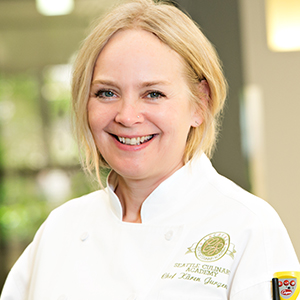 Kären Jurgensen
Chef-Instructor
Kären Jurgensen is the fine dining Chef Instructor at Seattle Culinary Academy, overseeing One World Dining Room. She is the founder of sustainability curriculum here at Seattle Culinary Academy, which launched in Fall 2005. As senior tenured faculty she was awarded by the board of trustees for Seattle Colleges, the prestigious "Lifetime Learner Award" in 2018.
At SCA, Chef Kären has implemented an annual tapas competition for our students, resulting in a chance to compete on an international stage in Valladolid Spain. Our students have taken top placement in 6 years of competition. Chef Kären has partnered with international programs to provide tours and staging opportunities abroad.
Kären spends summers at Quillisascut Cheese Company's Farm School teaching professional chefs, culinary students and agricultural professionals, farm to table immersion courses and philosophy. She is the co-author of "Rethinking the Kitchen, the sustainable kitchen handbook" and "Chefs on the Farm" cookbook.
Kären was the founding president of FORKS, the Seattle chapter of Chefs Collaborative and was honored with the Chefs Collaborative National "Sustainer 2012" Award. This award recognizes her as a chef and mentor; creating awareness of sustainable food issues and making delicious food. Alice Water's Edible Schoolyard named her an "edible education hero" in October 2012.
Kären is a leader in the both the local and national food community supporting many organizations: Slow Food where she worked with Gary Nabhan on the RAFT project, was selected twice as a US Terra Madre Delegate, and is now on the national board helping to direct the Chef's Alliance initiatives. She is a member of Women Chef's and Restaurateurs, Southern Foodways Alliance, and Les Dames de Escoffier in which she facilitates the "Global Initiatives" programming. Kären sits on the board of The Good Meat Project. You will find her honing her skills; with students at community events around the city, traveling to international food conferences like the MAD symposium in Copenhagen or Salone De Gusto in Italy, and speaking about sustainability issues in our food system.