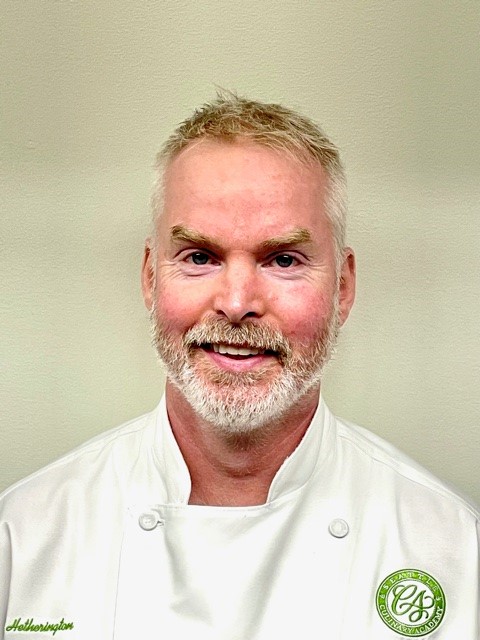 Craig Hetherington
Chef-Instructor
Becoming a tenured Chef Instructor at the Seattle Culinary Academy is the culmination of a life of cooking and teaching. Craig grew up cooking at his mom's and grandma's side, learning how food has a natural tendency to bring people together to talk and enjoy each other's company. He currently teaches third quarter in the Square One Bistro where students learn techniques on hand crafted pastas, international cuisines, as well as making foods in our Woodstone pizza oven. 
Before teaching at SCA, Craig was the Executive chef at TASTE Restaurant and Catering at the Seattle Art Museum where he oversaw the operations at SAM Downtown, the Olympic Sculpture Park, and the Asian Art Museum at Volunteer Park. During his time at SAM, he focused on using local farmers, ranchers, fishers, and many of the other purveyors we are blessed with in the Puget Sound. Craig also worked with winemakers to organize dinners pairing their wines with seasonal dishes quarterly in the restaurant. One of his highlights during that time was being a featured chef at A-Z Winery, Adelsheim Winery, and at the Grand Luncheon at the International Pinot Noir Celebration in Oregon from 2008-2010.
Never wanting to miss out on a fun time, he has volunteered as a guest chef at fundraising events for American Cancer Society, Eat-Run-Hope, Farestart guest chef night, Seattle Humane Society, Tilth Alliance, Pike Place Market Foundation, and the Neighborhood Farmer's Market Alliance. Chef Craig's recipes have been featured in Sunset Magazine, Seattle Edible, Celebrated Chefs, Cocktails and food pairings, and the Soup Kitchen Cookbook raising money for the Seattle Women's Shelter.