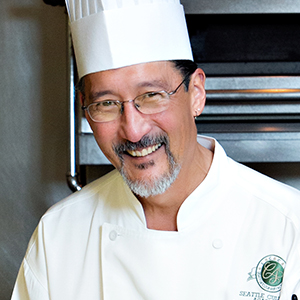 Gregg Shiosaki
Chef Instructor: Culinary Arts
Gregg Shiosaki has been a food services professional since 1976. He was chef in a fine dining environment at two of Seattle's premier corporate executive dining rooms, and in two of Arnie's and Ram Corporation's high-volume, seafood-specializing restaurants. He has also provided consulting services for local Asian community-assisted living facilities, several media production companies, and additional restaurants. Chef Shiosaki earned two gold and two bronze medals in prestigious American Culinary Federation hot food competitions, and won first place in the 1998 Northwest Soup and Sauce Championship.
Chef Shiosaki volunteers his skills for community service fund-raising events, and also teaches culinary classes to K-12 students. Recently, he developed and supervised a "Chef and Child" sponsored program that brought college culinary students to teach cooking classes for at-risk middle school children. He also developed and taught a series of classes for high school students on "How to Compete in a Culinary Competition."
He has been a chef instructor since 1991, and has taught in all three of Seattle College's culinary arts programs. During this time Chef Shiosaki has received the President's Award and the Dan Evans Chair Award for Exceptional Faculty. He currently teaches first quarter theory and practicum as well as the Buffet Catering & Garde Mange class.