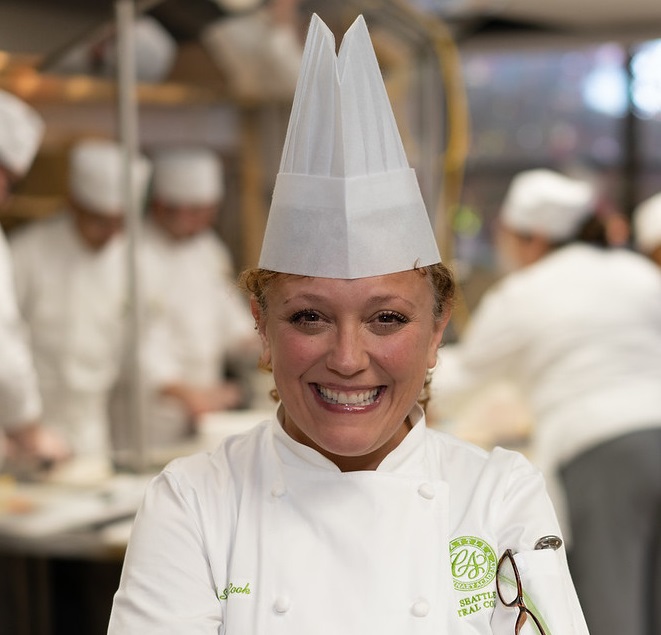 Shannon Cook
Chef-Instructor
Shannon's culinary journey started at the side of her grandmother in her kitchen where she first learned the importance and connection of food and family. That connection is a lesson that she carries with her always as a chef and a teacher.
Shannon started culinary school at 18 at the California Culinary Academy in San Francisco. Shannon went on to do her externship at a pastry school in Denmark, and then right into industry.
Shannon has had pleasure and opportunity to work running cafes, restaurants, catering, and in global corporations. Her positions have ranged from line cook to executive chef, corporate training leader to Chef Instructor. As the International Training Lead at Starbucks, Shannon created and implemented the international training program for the inaugural global partnership with Princi restaurants on Starbucks Roastery Reserve locations around the world. This included supporting the opening of five Roastery Reserves, both domestically and internationally in Seattle, Shanghai China, Milan Italy, and Tokyo Japan. As the Culinary Program Manager at Sur La Table, Shannon developed and created all culinary content for their cooking schools nationwide, working to develop culinary programs appropriate to targeted markets, food trends and regional cuisines. During her time as a Culinary Instructor at Le Cordon Bleu, Whole Foods Market and Seattle Culinary Academy she had the opportunity to teach culinary topics ranging from baking and pastry, introduction to culinary arts through the more advanced topics of contemporary and global cuisine.
Currently Shannon teaches the first quarter kitchen, sharing her passion and experience while remaining firmly rooted in that first lesson on the importance of food and connection in our lives.