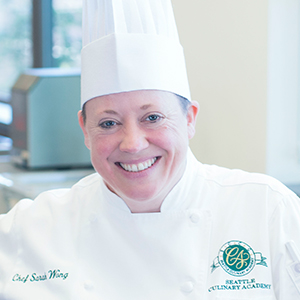 Sarah Wong, M.Ed.
Chef Sarah Wong began her experiences in the culinary industry at the age of fourteen, cooking with her family at a restaurant in Honolulu, Hawaii. After moving to Seattle to obtain her B.F.A. and Master's degree in teaching from Seattle University, she decided to pursue her passion for cooking full time, using her teaching skills in the kitchen for several years.
Chef Sarah has worked as a Sous Chef at Café Flora, one of Seattle's best known vegetarian restaurants. Working at Café Flora heightened her awareness of sustainable farming, the farm to chef connection, seasonal cuisine, and expanding one's palate with global cuisine. She has worked at Bouchon Las Vegas and Le Cordon Bleu College where she taught Euro-Asian cuisine, Regional American Cuisine, Dining Room service, and Baking and Pastry techniques. She also co-owned a catering and personal chef company and served as private chef.
Most recently she served as Banquet Chef at Lane Community College at the Center for Meeting and Learning, a sustainable banquet facility within the culinary program at Lane. Since joining Seattle Culinary Academy she has taught Dining Room Service, Cost Control & Purchasing, Introduction to Wine, Functions of Management, and Advanced Culinary Practices.